Delivery - 9

Customer Service - 2.5

Product Quality - 6

Selection of Brands - 7

Privacy - 1.9

Information - 2

Price - 7.1

51

5.1 /10

1napsgear.org is an online pharmacy that guarantees quick and easy delivery. Their store offers a wide range of medications available by prescription only.

User Rating:

0.48

(

10

votes)

5
Napsgear.org Review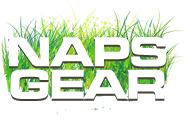 Napsgear.org is an online pharmacy that guarantees fast delivery. Their store offers a wide range of medication usually available by prescription only. The site has a good help desk ensuring that all of your requests are processed quickly.
The site is managed by Moldavians in Moldova, under a business in Panama with stations in Latvia and Turkey. It does not specialize exclusively in steroids because it also sells other pharmacy products. This site does not have an online pharmacy sales license. For me a site that sells steroids without an official license is normal, since we all know that steroids are not "officially legalized" products for sports use. However a site that sells pharmacy products for the heart, blood pressure or vaccines without an official license should be avoided immediately. All of the brands on this site are part of the same production group, there is no difference between the brands except the packaging.
When you arrive on the welcome page, surprise! A pornography competition! It's true that this type of photo generates traffic for the site, especially men, but does this really reflect the seriousness of the company and the quality of the products? I doubt it! I censored the photos in the screenshot so as not to offend any sensitive souls.
The site has already been shut down several times and thus changed its domain name. Whether it's the pornography competitions or selling medication without a license or a delivery problem, I can't say for sure the reason for these repeated closures.
One thing that bothers me, especially in this day and age, is an unresponsive site that you can't navigate on a phone or tablet. The site is only in English. In fact, there is no translation module, you must know English if you want to order from this site.
General observation
For me, the basis of online sales is to have quality photos, preferably made by the site and corresponding to the products that we are buying. On Naps-gear there are many products without pictures, how is this possible? If they have really already sold this product to a customer or if it is truly in stock, putting a photo on a website takes 5 minutes. I consider this to be a very important point for the "confidence index," and it really sparks doubt when it is missing from a site.
Shipping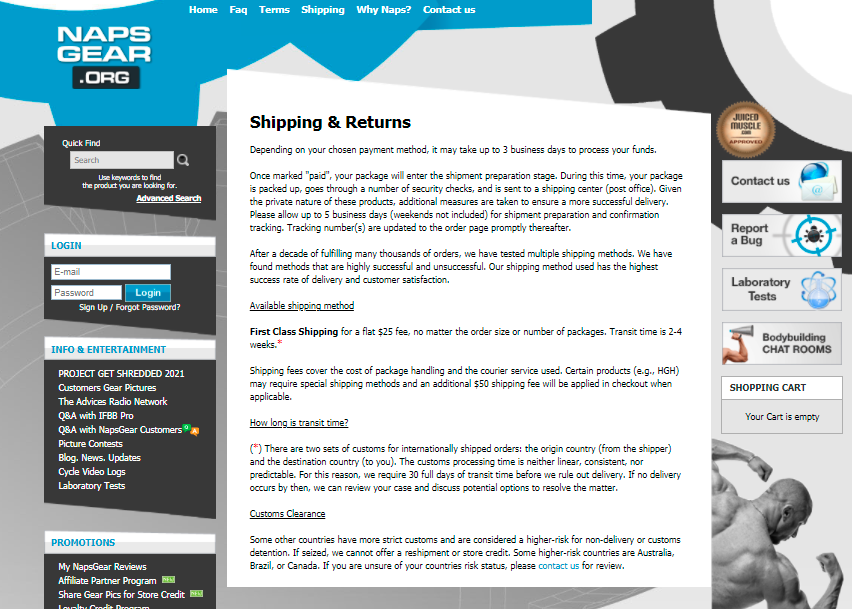 Shipping is not too expensive, but at these prices there is no express shipping available, and therefore no online tracking for your package. In fact express shipping has never been available, so if you are in a hurry you'd better move on, because the delivery time is 3 weeks.
Only one brand and 9 products can be shipped with a delivery guarantee. In fact there is only one brand (hardCoreLabs) because all of the other products on the list are out of stock or must be ordered in increments of 50!
Payment
Of course there is no option to pay with a debit card, BUT even payment with a western union card is not recommended! (Why?)
If you wish to pay with a bank transfer, you can forget that too. The minimum for paying by a bank transfer is $500, plus if you have an order of $506 you are going to pay $510; they round up to the nearest ten just for fun.
If your order is above $500, and you decide to pay by bank transfer: Wait! The bank address is in LATVIA, the beneficiary is a company from PANAMA with a "trust company" bank in the United States. As you are paying on the company account, you must then justify your bank transfer with an invoice for "software development". If for some reason your bank doesn't justify the payment as "software development" the money will be returned to you with a penalty at your expense. Count on a delay of 5 to 7 business days, but since there are only 5 working days in a week, think of it as 8 to 10 days. With 3 weeks for shipping, you have over a month of waiting for your order.
Product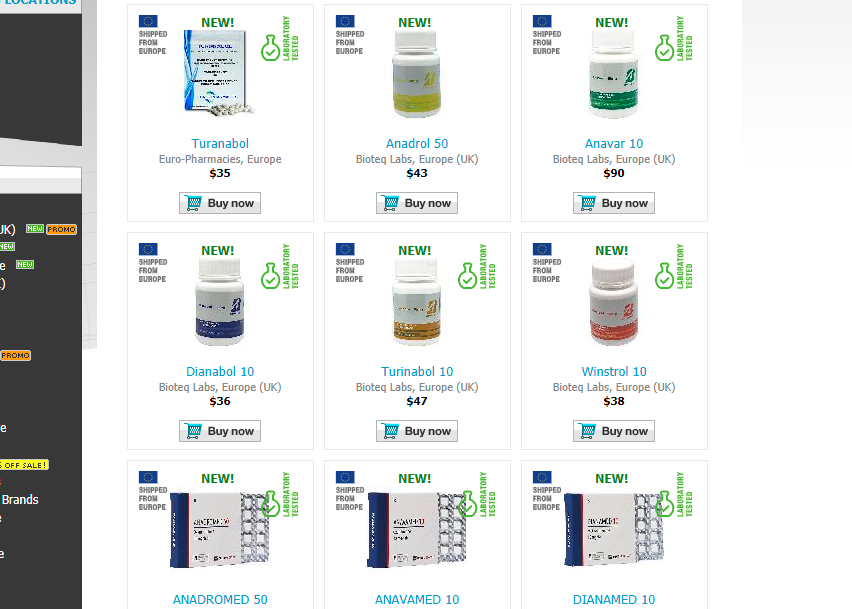 To an uninformed user, there appears to be a lot of choice in terms of catalog brands. But if you examine the official brand websites, and if you know a little about the world of steroids, practically all of the brands sold come from the same laboratory in eastern countries, and if you follow me a little, you know very well what I think of the manufacturing quality of these labs! Genshi Labs, Opiox pharma and Roids-Plus come out of the same lab. They do not even bother to put the official sites on different servers. The packaging remains completely identical (with different designs) with the same dosages. As for the other brands available, they are all simply out of stock, which is not as troubling if they are lesser known products, but even so…Dianabol from the British Dispensary brand is an institution. It must be on a steroid site worthy of the name. This is simply a way to bring visitors back to the site and make them buy their own brand instead of our famous Dianabol British Dispensary.
Customer Reviews
There is little to no customer feedback on the products, because the option to add reviews is simply not available for all of the products. Therefore, we have no user feedback. After the photos, for me this is the second reassuring element that is essential for an online vendor.
Lab Tests
In my opinion lab tests are clearly an excellent sales argument, and at first it rekindled hope for making my first test order. But when you look a little closer, you're only disappointed: the laboratory page has no header, there is no brand for the product tested so we have no idea what product was tested and if it's even an actual product from the site, no signature from a lab worker…and the list of negative observations is long. Those who have seen a true lab analysis before can see that it is a long ways from what we are presented on this site. A little trick: the majority of lab tests (especially if it has handwriting) are sent as letters, so in the scan there is a visible fold that proves the letter was actually sent, opened, and scanned.
In conclusion, I didn't even bother to make a test order on Napsgear.org. There were too many reasons for elimination (medication, Moldova, shipping delays, photos, fake lab tests…). I just wasn't interested in losing my money.